---
Results from event 7
---
Our next events begins our 2013 points season.
Time to get those finishing touches done...
Hope to see you there on
May 25th and 26th
---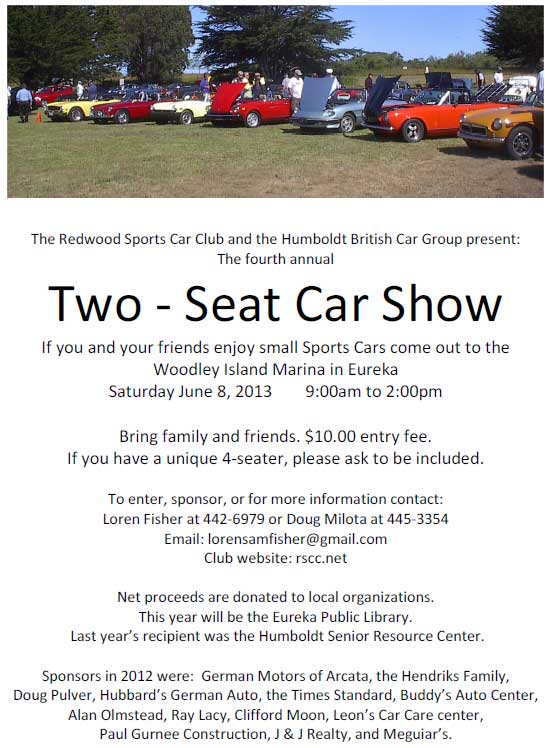 ---
----Hoopa 2013 Information----
Hello hillclimbers!
Yeah! it is officially hillclimb time again. The Tribal Council said yes and the plans are in the works. We have it set for July 27th & 28th. The tech inspection for local drivers is on Thursday the 25th at Leon's Car Care Center from 6:00-7:30 pm. The tech inspection for out of towners is on Friday the 26th at the Volunteer Fire Department in Hoopa from 4:00-8:00 pm.
Gambi Hill Motel (530-629-2701), Bigfoot Motel (530-629-2142) and the Tsewenaldin Inn Motel (530-625-4294) are aware that we will be needing rooms so I suggest calling as soon as possible for a reservation. Let them know that you are with the hillclimb folks so you can get into the Tsewenaldin Inn motel because they have it held just for us.
I will post more soon and am working on the application and booklet now.
Call me if you have any questions at 707-845-2207 (cell) or 707-923-4121 (home).
Excitedly,
Tina Johnson

Again this year we will be providing
Live Timing at the Hill
---
Here is a Great Article
with some really good information
on Autocrossing
Thanks Oliver
---
The officail dates for 2013
February 16-17 Non Points

April 13-14 Drivers School

May 25-26 Points Event 1 & 2

June 15-16 Point Event 3 & 4

July 26-28 Hoopa Hillclimb

August 17-18 Points Event 4 & 5

September 21-22 Points Event 6 &7

October 19-20 Point Event 7 & 8

November 9 Awards Banquet
---
Autocross Prices
$10 for 1st time drivers. (First Event Only)
$15 for RSCC club members.
$20 for non members.
$5 off the the non members price
for other autocross club members.
---
Start Times
Gates open at
8:30 a.m.
Registration will be
8:45 - 9:20
Tech Inspection is
8:45 - 9:45
Course open for walking: 8:45 am to 9:55 am
Mandatory Driver's Meeting: 10:00 am
First Car on Track: Soon After Driver's Meeting. Do not be late!!!
If your late to registration you may not get to run.
If you miss the drivers meeting it's a sure thing that you won't be running!!!
Hope to see you there!
Also note...
If you come to run then be prepared to also work the course,
it takes workers to make this all possible and Everyone is expected to help. If we don't have course workers we can't run... So plan on spending the whole day if you are coming to play.
---